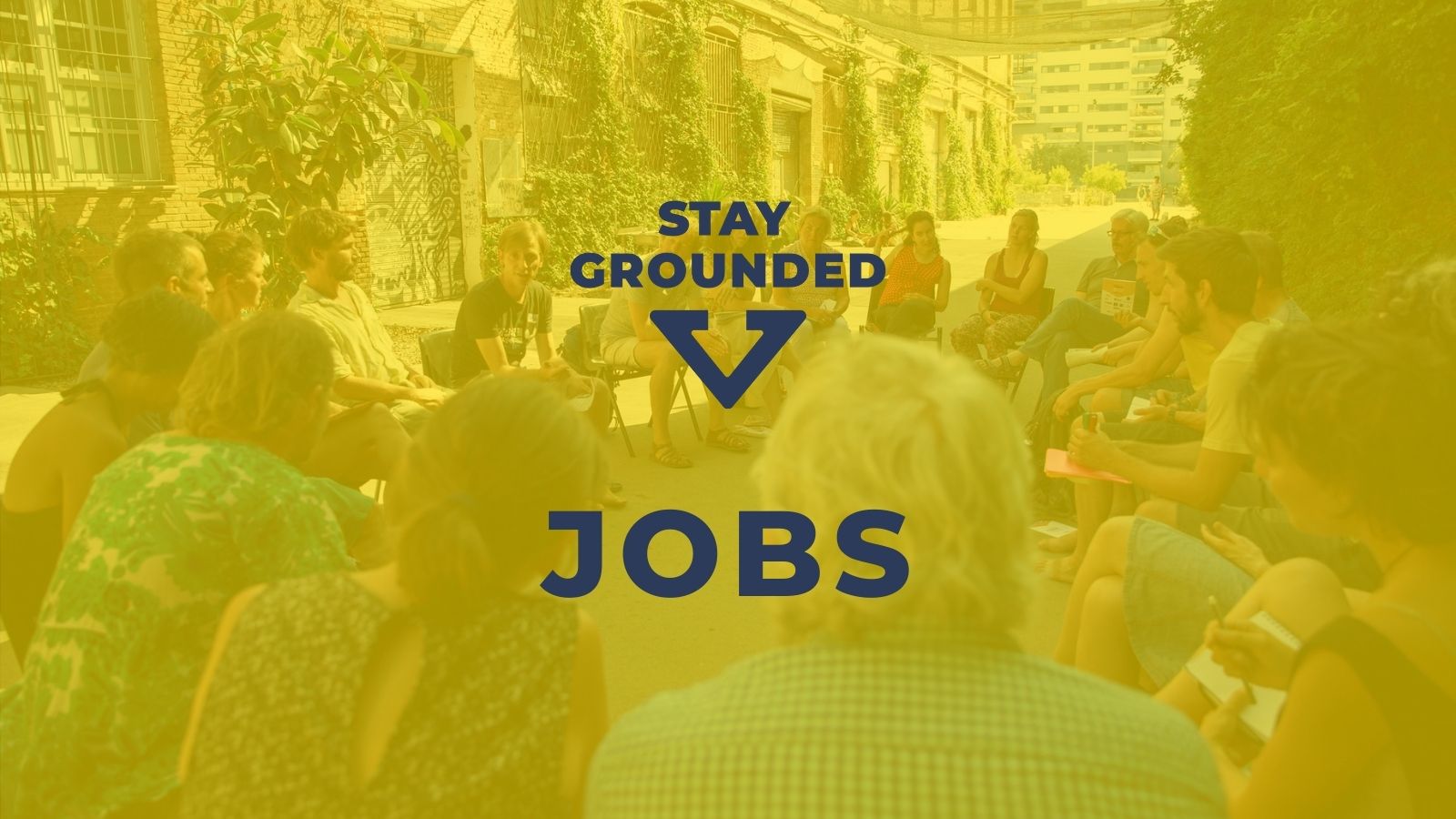 Open Position: Stay Grounded Press & Communication Campaigner
Stay Grounded is hiring a communications campaigner to coordinate our efforts on digital media and with the press. The position should be ideally filled by February 1st 2022. 
About Stay Grounded
Stay Grounded is a people-powered, science-based, and action-oriented network of about 180 member initiatives around the world. The network fosters mutual support and exchange of experiences, and campaigns for a climate-just reduction of air traffic, as well as against problematic climate strategies like emissions offsetting and biofuels.
The network is hosted at Periskop, a Vienna-based collectively organised NGO. We strive to to work in a non-hierarcical way, take decisions by consensus, and have a work attitude of putting team members' different needs at the centre. You will be part of our highly motivated team of eight people, and will work mainly in our communications team which currently has a staff of three. In addition to our campaign staff we have an elected coordination group, and active regional and thematic workgroups composed of volunteers.
Stay Grounded develops and advances political strategies, and communicates with the public on aviation and climate justice issues. We disseminate our positions, demands and other content both indirectly through member groups of our network and other partners, and directly through our own platforms and press work. You will mainly work on these endeavors and will also be involved in political strategy discussions.
Your main responsibilities include:
Press work: writing and sending press releases, contacting journalists, giving interviews, maintaining an up-to-date press contact list, keeping track of press coverage.
Coordinating the communication team: Organizing monthly calls, proposing outreach strategies, planning content.
Creating and posting social media content for the Stay Grounded channels (especially Twitter, Facebook, Instagram) and community management.
Enhancing our storytelling, also using new and creative media (e.g. visuals, videos).
Keeping up to date on aviation, policies and climate justice news, sharing it within our team and network, and collecting articles for evaluation by others in the campaign team or network.
Participating in, and possibly coordinating policy strategy calls within our network.
Engaging with members to support their outreach.
Possibly: help to build up a community of volunteers to support with social media work.
What we offer 
A part-time position of 20 hours per week in our highly-motivated and self-organised team of part-time Campaigners.
The opportunity to put important issues on the political agenda and to pursue the goals of Stay Grounded with committed activists around the world.
The possibility to bring in your own ideas and collectively shape our communication and the network.
Fixed-term contract until January 2023 (and very likely extension). An interest in longer-term employment is a plus.
A salary of 1250.00 € monthly for 20h/week as a guideline, and a needs based principle within our collective (so there is the option for salary changes later on, depending on your needs and funding available).
This is a remote position that will be performed from home. Your residence should be in Germany, Austria or the UK. In Austria and Germany, we have our own offices. In the UK, you could most probably be hired via another organisation. If you're located in Vienna, this position can be performed partly at our Vienna office.
Skills and background of an ideal candidate 
At least 3 years of experience in public relations, journalism and/or communication for social movement groups.
English at native speaker level; excellent writing skills in English (other languages are an advantage, especially Spanish, French and German).
Experience in giving interviews and writing press releases.
Good social media skills (especially Twitter, Facebook, Instagram).
Design skills for elaborating share pics.
Skills in coordination and keeping a strategic overview.
Knowledge of climate issues, including an in-depth understanding of climate justice, the problems of green growth and false solutions (such as offsetting), and interest in aviation policy (contents of the most important Stay Grounded publications on the topic must be understood and agreed with).
An understanding of Stay Grounded's history, campaigns, and theory of change, as well as a high level of identification with our goals, values and working methods.
Interest or experience in working in a collective and an aspiration for hierarchy-free collaboration.
Awareness of, and sensitivity to, the needs and concerns of individuals from diverse cultures, backgrounds and orientations, and being mindful to not reproduce any forms of discrimination. Experience in working together and/or with marginalised groups.
Knowledge of standard computer applications for word processing, communication (videoconferences), spreadsheets, wordpress, and of basic graphic design programs like Canva. Experience with social media management tools (e.g. Hootsuite) is an advantage.
Ability to accommodate travel to meetings, following our no-fly policy. (We meet at least 2-3 weeks a year as a team, apart from online co-working.)
Experience in group coordination and facilitation is an advantage.
We particularly encourage people who experience discrimination due to societal power relations to apply. We acknowledge racism, (hetero-)sexism, classism, ableism or ageism as sadly being part of the current society into which we are born and socialized. In the Stay Grounded team we are not exempt from this either, but we try to reflect on these discriminations – and especially our own privileges as a team – and to change them in an emancipatory way.
Application process
Have we gained your interest? Then please send us your application containing a letter of motivation, CV, certificates, selected samples of your work (sharepics, professional articles, journalistic contributions, etc., max. 2 pages each), and (if applicable) links to a social media presence you have managed or are managing. The application documents should be sent as a PDF file to . A photo is not necessary. The deadline for applications is 31st December 2021 and interviews are scheduled around the 11th of January.
Please understand that we will only consider complete application materials. Once you have submitted your application, we will keep you informed as the selection process progresses. We will not be able to respond to enquiries about the status of applications.